It's Tuesday and that means we have a new opportunity for you to be the fan of the week! This week, one lucky winner will receive a FREE JEWEL SCENT CANDLE of their choice! These candles hold jewels that are worth between $10 and $7,500! And, Jewel Scent candles are sure to make any home smell amazing! The winner, chosen randomly on Tuesday 9/24/2013 at midnight, and announced on Wednesday 9/25/13 at 8am EST will get their choice of a Jewel Scent Candle in the Following Fragrances: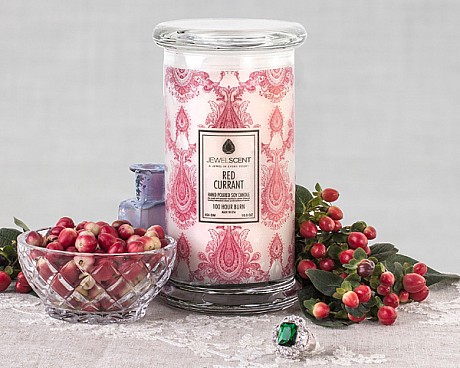 Cotton Blossom
Tropical Kiwi
Citrus Pomegrante
White Floral
Sweet Gardenia
Red Currant
Passion Flower
Orchard Apple
Jasmine Flower
Fresh Fig
Floral Pear
Cuban Nights
Calm Lavender
Bamboo Rain
If you aren't chosen as the fan of the week, and you really like the idea of the candle for a gift or for yourself, you can head on over and sign up via email or Facebook and Receive a $5 off your first purchase credit to use on their candles, beads, or soaps!
"Like" Katie's Krazy Savings On Facebook or Follow on Twitter (1 point per option, will be verified) = up to 2 points (optional)
Sign Up for our FREE Daily Email AND CONFIRM your subscription (Optional) = 5 Points (Email will be verified)
Comment on this post telling us your favorite type of deals or freebies we post (Required) = 10 points (1 bonus point for a link to your favorite post)
Share and Like this post on Facebook to earn an additional 5 points
Good Luck! Winner will be announced at 8:00 AM EST and will be emailed. They will have 48 hours to confirm their prize or it will be forefeited
Want to be Fan of the Week Next Week?
Here's how it works: The more you comment, "LIKE" status updates, "Share" things, (these are not required) leave comments on the post page, etc (THROUGHOUT the week), the better chance you have of winning! Every Tuesday will be a different prize and winner!